Why WordPress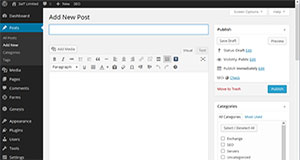 While Joomla is our CMS of choice for larger, more complex websites, we often recommend WordPress for smaller sites. WordPress is primarily a blogging platform, but can be extended to create great small-scale websites. Due to its ubiquity, there are literally thousands of off-the-shelf themes and plugins that can be used to give your website the look you are after without the expense of a bespoke design.
Advantages of WordPress Websites
Probably the simplest mainstream CMS to use – great for small sites. Alternatively, we can manage your content for you.
Huge array of off-the-shelf themes and plugins to allow us to build your website quickly and cheaply.
Powerful blogging platform.
Examples of WordPress Development
This very website was built using WordPress. The site features a few plugins – The slider on the front page is a very powerful premium plugin that we have also used on the Vin-X Wine Investment website