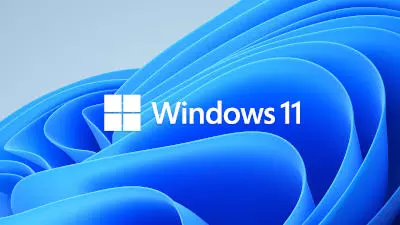 Users of Microsoft's Windows operating system should now be used to the twice yearly introduction of new features, and the autumn update is now starting to roll out to users. It includes AI enhancements, improvements to the file explorer and a fair bit more.
Starting with the change that Microsoft is making the most noise about, this update is the first that introduces their "CoPilot" system to Windows. This is an AI assistant that will be integrated into the operating system that is intended to assist with anything you ask it. The input field will be ever-present on the taskbar, or can be summoned at any point using the Windows Key + C.
Both the Paint and Photos apps have also seen AI enhancements added. In the case of the former, it will allow image backgrounds to be intelligently added or removed. For the latter, there's a few new features like being able to blur the background in your photos to draw attention to something in the foreground.
The snipping tool has had some attention - you will now be able to use it to extract text from any image on your screen and paste that text into other applications. It also has new options for text redaction so you can censor sensitive data before sending a screenshot on.
The file explorer has been given a lick of paint to bring it more in line with the rest of the Windows 11. It also now has a new context-sensitive address bar and improved search tools.
One other slightly niche but welcome change is to compressed files. Windows will now be able to deal with files that have been compressed in RAR, 7zip and other non .zip formats without having to install a 3rd party application to do it.
In addition to this, Microsoft have now made Outlook for Windows available for general release. For anyone that routinely uses Outlook already, this is the version that you get if you click the "Try new Outlook" toggle in the top right. As well as ultimately replacing the current version of Outlook, this new version is also intended as a replacement for the Mail app that comes preinstalled with Windows. No 365 subscription is needed. Anyone that wants to set up email on their Windows machine can install the new app via the Microsoft Store. It will eventually be rolled out as an automatic update with the Mail app automatically being removed.
Finally while we're on the subject, rumours are buiilding that we'll see Windows 12 released next year. Don't expect radical changes though. Much like the change from Windows 10 to Windows 11, the jump in version is more an exercise in providing a definite support cut-off point for older PCs. Feature-wise, it's likely to just be a glorified one of the the updates above. This is of note for anyone still running Windows 10 as we're now only a couple of years out from support being ended for this operating system. At this point, you should probably have updated if you can. If you can't, you may need to start considering replacement hardware in the not-too-distant future.