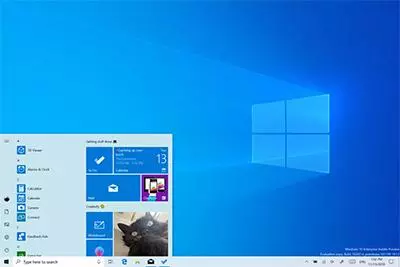 Microsoft paused their twice-annual Windows 10 feature updates in the autumn and relegated that update to a "maintenance and security" release. It's therefore been a year since any significant new features have been added to the operating system, so what can we expect to find when the update starts rolling out later this month?
Improvements to Windows Search
One thing that did change in Autumn's update was a tweak to how Windows indexes all the files on your computer so they can later be found using the "Type here to search" bar. It appears that this process was a little too eager and could sometimes affect the machine speed when it was being used. This update will correct the problem and ensure it only does that indexing when the device is idle. You will also find a few more changes on this search panel, including icons for "Weather," "Top News," "Today in history," and "New movies." Additionally, this panel will show previews of web pages when the search bar is used to search the internet.
Tweaks to the tablet layout
Those that have devices that can take advantage of Windows' tablet mode (eg the Microsoft Surface range) will find a few quality of life improvements here. Things have been spaced apart more to help avoid touching the wrong thing.
Your Phone enhancements
Microsoft have been introducing new features to the "Your Phone" app with each feature update, and this one is no different. This app allows you to sync your phone to your PC so you can do things like receive SMS messages on your PC screen and send a webpage you're reading from your PC to your phone. This update will extend the options here to include things like photos, and also expands the range of devices that the app integrates with
Cloud reset
Windows 10 has had a "Reset my PC" option for a while. This is something of a last ditch fix-all option that reinstalls Windows from scratch while leaving your files intact if you wish. Until now, this worked using a copy of the operating system stored on your local machine. This update will add a "Cloud reset" option that will grab the latest copy of Windows 10 from Microsoft's servers to use for the install. This should prevent having to waste time running months of updates to the almost certainly older version stored on your PC.
Other changes
Windows update bandwidth limits - This will allow you to limit the amount of bandwidth that Windows Update is allowed to use when grabbing the latest updates for your machine

Windows Subsytem for Linux 2 - This is a fairly major feature of this update, although likely only of interest to a select few. Many improvements have been made to the ability to run a copy of Linux within Windows 10

Downloads folder removed from Disk Cleanup - A really small one, this, but could be a lifesaver for some! Until now, the Downloads folder was included in the list of options for cleaning by the inbuilt Disk Cleanup utility. As you'd expect, this is where everything you download from the internet ends up by default, and many people have a lot of files that they probably don't even realise live here until a cleanup deleted them and it was too late! This folder will no longer be included as a potential "Cleanup" option in the app.
Mouse cursor speed settings - These can now be changed via a Windows 10 style settings panel rather than being hidden in the old "Control Panel" style screens
Task Manager improvements - The Task Manager will now list what type of Hard Drive each drive is (SSD or HDD) and will also start reporting on the temperature the graphics card in the machine is running at.
There's a few other changes that those with keen eyes and / or specific interests may spot. It's likely that the update will start being deployed in the next two or three weeks. If you're particularly keen to try it, you can manually check for updates by heading to Settings > Update & Security > Windows Update. When the update is available, an option to install will appear here first before it is automatically installed at a later date.